Mini Goldendoodle, "Tootsie Roll".
| Diamond Doodles |
www.facebook.com/pages/Diamond-Doodles/736795696412847
417-317-3647 central time zone
While owning your pup from us, if for some reason you cannot keep him/her, we will be happy to help re-home him/her.  We do not buy back any pups, but would be glad to help find another home for them.
We love to get pictures of your puppies after they go home, so please keep sending them.  Any pictures submitted to Diamonddoodles can be used on our website or for advertising without your permission.  We are also on Facebook, so "friend" us!  Tag us with the pics of your puppy/dog we love to see them!
What you will get with your puppy!
At 8 weeks old, the pups will be vet checked and usually have two of their four puppy shots. (Puppies that are older will continue getting shots until they are done.)  They will have been wormed several times. The puppy will have been vet checked, paper included from the vet. Their individual medical (shot) record will be sent with your pup along with a sample bag of food so you can change him/her over to your food. We feed our puppies Nutri Source Puppy Food.   www.nutrisourcedogfood.com  Check out their website to see if you can buy it where you live. http://www.nutrisourcepetfoods.com/nutrisource/where-to-buy/ .   Our puppies come with 30 days of Pet Insurance, If you activate it.  It is FREE!    Each vet has their own regimen for puppy shots and vaccinations, so you may have to do another series of shots after receiving the pup.  You need to have your pup vet checked within 3 days of receiving him/her.  This is mandatory and will not be waived.   We do not register our puppies, you will NOT get registration papers.  Our puppies are already micro chipped, you will need to register the chip in order for it to work.
TAIL DOCKING & DEW CLAWS:  The Whoodle and Goldendoodle is a mixed breed dog, there is no breed standard.  We do not dock tails, we think they are beautiful the way they were born.  ALL our mixed breed puppies will NOT have docked tails unless indicated.  
Shipping/transporting your puppy 
 
We do NOT ship using commercial shippers.  We do personally deliver though!  Or you can pick up from us.  We are in the Southwest corner of Missouri, near Joplin for pick up. We can deliver up to 250 miles from Joplin MO for a fee of $350.    We could meet you or someone you send to pick up your puppy at a local airport for a fee.  We are an hour from Springfield MO, 2 hours from Tulsa OK and 3.5 hours from Kansas City airport.   Please discuss this when making your inquiry. 

Waiting Lists & Deposits & Payment for puppies 

We will no longer keep a "notify upon arrival" list on any litter.  We will post pictures of our new litters as they reach the age of 4-6 weeks, at that time you can pick which puppy you want to secure.  Initial payments are puppy specific and non refundable.  It is a commitment on your part, so it is non-refundable.   Pups will not be held for anyone until payment is received.   If you are wanting a puppy months from now, you will need to keep watching our website about 30 days before you want the puppy.  

We accept Paypal for an initial payment or bank wire that is instant (not a bill pay wire) or cash for payment.  Initial payments are considered a commitment to purchase that particular puppy, it is puppy specific and non refundable.
Diamond Doodles reserves the right to NOT sell a puppy if they so choose, even after an initial payment is paid 
PLEASE KEEP IN MIND, THESE ARE LIVING MAMMALS WE CANNOT GUARANTEE SIZE.    
---
---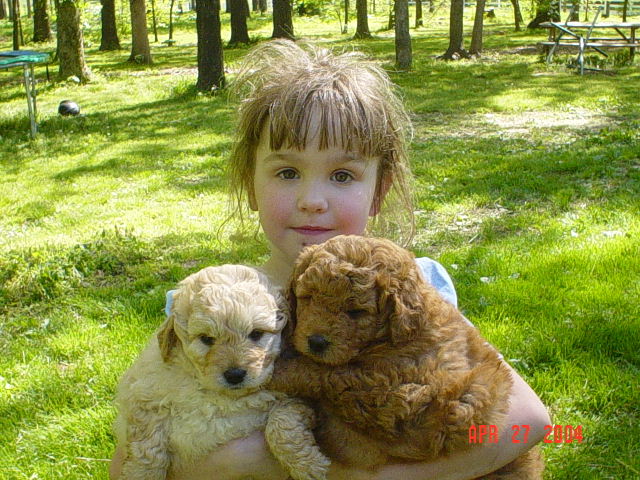 F1 Goldendoodle pups!
"My wife and I brought our Goldendoodle home a month ago. Such an awesome dog, even if there is poodle mixed in there. I was so against having anykind of sissy dog ever again. I love this dog and he's got such great characteristics like I've never seen in a dog. Non shedding and non allergenic too! We named him Ziggy Marley and due to the poodle bounce he has, he's acquired the nickname Tigger!"
| Diamond Doodles |
| whoodle |
| goldendoodle |