WE WILL REQUIRE ALL PUPPIES SPAYED OR NEUTERED NO LATER THAN 6 MONTHS OLD OR WARRANTY WILL BE NULL AND VOID.
We can have our vet neuter your male puppy prior to it leaving here for an additional $120. We feel it's safer for females to be spayed closer to the 6 months age.
This is our warranty that will come personalized with your puppy.
Warranty
DIAMOND DOODLES
Please sign and mail this back to the above address. If the warranty is not signed and returned to us within 1 week of your possession of the puppy the warranty is void. Any changes made to this warranty without the initials by both parties will automatically void this warranty.
We warrant that to the best of our ability and knowledge we have produced a healthy puppy. We have devoted much time, money, and energy to produce the best puppy possible. We follow all currently accepted health practices regarding sanitation, health screenings, de-worming and vaccinations under the advice of our veterinarian. Even with the best breeding programs at times unavoidable defects and problems may occur. Even though we make every effort to breed as close to the breed standard as possible, we do not warrant any issues other than health.
We offer a 72 hour health warranty. Within that time you must have this puppy seen by a veterinarian of your choice, at your expense, or all warrantee are null and void. If the puppy is found to be defective we must be notified immediately and we reserve the right for the puppy to be reevaluated by a veterinarian of our choice. We do not warranty against normal puppy hood ailments such as roundworms, kennel cough, or coccidiosis, or giardia, as these can at times be unpreventable. We warrant against preexisting, severe, life-threatening or life-shortening diseases or disabilities. We offer a ONE YEAR genetic warranty. We do not warrant against any condition caused by carelessness, negligence of abuse.
If puppy is determined by us to be defective, we will replace it with the next available comparable puppy of our choice. We do not refund any money. In the event a puppy needs to be replaced the original puppy and registration papers must be returned to us (at buyer's expense). In the event the puppy needs to be euthanized, you must have permission from us prior to euthanization. This warranty is only valid to original buyer on original puppy.
We do not take any responsibility for veterinarian bills or any other expenses incurred after the purchase of the puppy. We are not responsible for damages caused by the puppy. We do not assume liability for any injuries to the puppy after it has passed into your possession.
We strongly recommend attending a basic obedience class and making sure your puppy is properly socialized. We also recommend keeping the puppy up to date on all vaccinations, de-worming, including heartworm prevention, keeping it on an appropriate diet, and all other usual necessary procedures.
If we micro chip the pup before it leaves you will be responsible for registering the chip to you. We do not warrant or guarantee anything beyond these initial steps.
Pups are sold as pets, no guarantee is made as to disposition, conformation, size, weight, color markings or breeding ability. Pup MUST be spayed or neutered at your cost no later than the puppy's 6 month birthdate. Failure to comply with this will nullify this warranty.
In the event of any litigation in connection with this contract, the Seller will be paid reasonable attorney fees by the purchaser . Venue and jurisdiction for litigation arising out of or related to this contract shall lie exclusively in Jasper County Missouri.
When you buy this puppy you are receiving full ownership rights. If this is a registered puppy we warrant you will receive the registration papers within 6 months of the time of possession.
---
---
---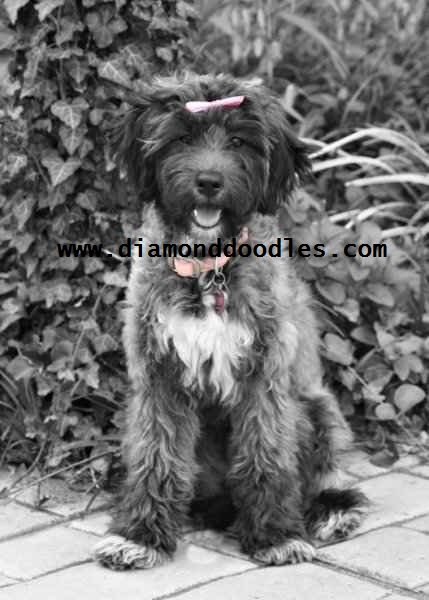 Mini Whoodle