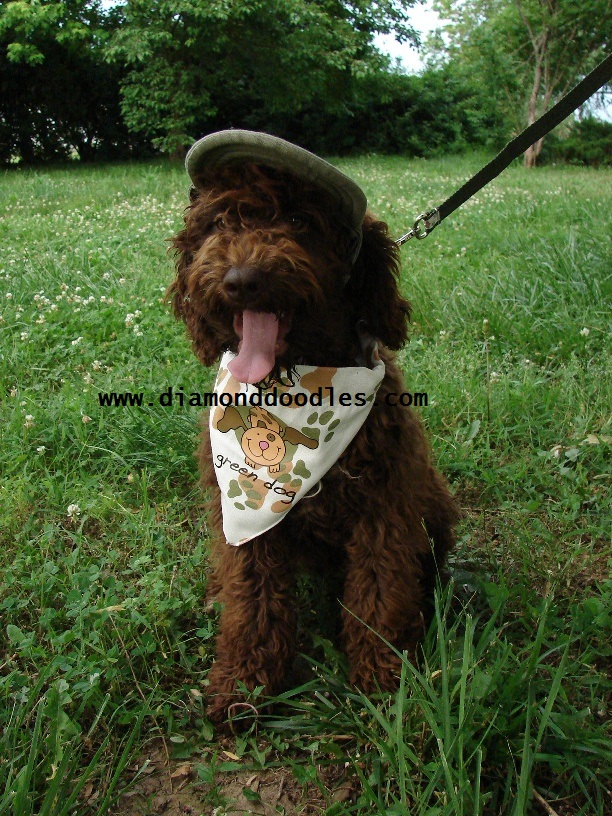 F1B Mini Goldendoodle, "Tootsie Roll".
While owning your pup from us, if for some reason you cannot keep him/her, we will be happy to help re-home him/her. We do not buy back any pups, but would be glad to help find another home for them.
We love to get pictures of your puppies after they go home, so please keep sending them. Any pictures submitted to Diamonddoodles can be used on our website or for advertising without your permission. We are also on Facebook, so "friend" us! Tag us with the pics of your puppy/dog we love to see them!
What you will get with your puppy!
The pups will be vet checked and usually have two of their three puppy shots. They will have been wormed several times. Their individual medical record will be sent with your pup along with a transition bag of food so you can change him/her over to your food slowly. We feed our puppies Nutri Source Puppy Food. www.nutrisourcedogfood.com Check out their website to see if you can buy it where you live. If you are picking up your puppy and would like a larger supply of puppy food, we can arrange to have a larger bag for an additional fee. Larger bags come in 6 lbs and 35 lbs. Each vet has their own regimen for puppy shots and vaccinations, so you may have to do another series of shots after receiving the pup. You need to have your pup vet checked within 72 hours of receiving him/her.
Micro chip:
Because of rising costs, we will not automatically micro chip each puppy. If you would like your puppy to have a micro chip, we can for an additional cost of $30.
TAIL DOCKING: ALL our mixed breed puppies will NOT have docked tails unless indicated.
Shipping

We are in the Southwest corner of Missouri, near Joplin. Shipping is available in the U.S.A. or you can pick up. We used two different services for "shipping" our puppies. We can ground ship our puppies to St Louis to arrive on Thursday evening. Ground shipping to St Louis is $125 and includes the crate for you to keep. Pups 12 weeks or older will be $150 to ground ship. If you are further away and need your puppy flown, we fly our puppies out of St Louis on Friday mornings. Either way of shipping is very safe for the puppy. Airlines must be USDA approved.

We have shipped puppies for over 8 years and have never had any problems. Shipping is generally $300 in addition to the purchase price of the puppy. Shipping for a puppy 12 weeks or older is $350. Shipping for two puppies (under 12 weeks old) together (in same crate going to the same airport) is $350. Once full payment is received, we can then set up the flight. We cannot guarantee a date or time for a flight but will do our best to work around your schedule. Shipping and flights may take 3-4 days to arrange, sometimes there are delays due to weather or holidays. The "air" shipping fee covers air fair, trip to airport , health certificate, rabies shot if pup is 12 weeks or older and an airline approved crate that is yours to keep. During extreme weather, our shipping dates and cities we fly out of may change. You are always welcome to pick up your puppy. Puppies that are 12 weeks or over have a shipping fee of $350.
The typical crate you will get with your puppy when either air or ground shipping measures: 24" long x 16" wide x 14" high. The crate comes with a food and water bowl and has shredded paper in it with your puppy. The puppy's paperwork is attached to the top of the crate.
What to take to the airport to pick up your puppy!
First of all there is no way for us know exactly where you pick your puppy up at the your airport. Each airport has different facilities and since they are always under construction, there is not way for us to know. When we email you the flight info, we provide you with the contact info for the airlines for you to call them for instructions. Because of security you will need to show a photo ID to claim the puppy, so you will need to take that. We email the airway bill number to you with the flight info, you will need that also. Puppies are sent in a plastic pet porter. Inside the crate is shredded newspaper, in case the puppy should have an accident. Take a small plastic garbage bag to clean the shredded paper out if your puppy had an accident. Baby wipes work great to clean the puppy up and any odor, but paper towels if you don't happen to have baby wipes. A bottle of water to offer the puppy because it always seems their water is spilled and they are thirsty. A collar and leash to secure the puppy when removing it from the crate. Keep in mind this puppy has never been away from it's litter mates, or in a plane or has never seen you, he/she may be afraid. If you have a very tiny puppy, please offer the puppy something to eat as soon as possible. If he/she won't eat the food provided, you might buy some canned/pouched puppy food ahead of time to offer. It's just to get something into the puppy as they don't have much body weight and sometimes forget to eat and can suffer from low blood sugar. Be patient with your new little addition, they too can suffer from jetlag.

Waiting Lists & Deposits & Payment for puppies

We will no longer keep a "notify upon arrival" list on any litter. We don't always have our youngest puppies on our website, so if we don't have what you are looking for, ask if we have any younger pups in what you are looking for. Our deposits are half the price of the puppy. The first deposit received, will have the first pick of the litter and so on. The deposit is non-refundable, but can be used on the next or a future litter, if for some reason you choose to pass on your pick. The expiration on this is 3 months from the date deposit is received. It is a commitment on your part, so it is also non-refundable. The deposit will be deducted from the sales price of the pup. Pups will not be held for anyone until deposit is received. Full payment is expected on pups 6 weeks and older.

For the deposit, we accept Walmart's Money Gram or Paypal (instant cash transfer or credit cards accepted). When paying by Paypal/credit card, we will add a 4% fee. We will accept payments on your account as your puppy grows but the balance due in full by the time the pup is 6 weeks old. If you are shipping the puppy, the entire balance including shipping is due at 6 weeks.
Diamond Doodles reserves the right to NOT sell a puppy if they so choose, even after a deposit is paid.

Sizes and Coloring of Doodles
WE DO NOT GUARANTEE SIZE OF THE PUPPIES!
Since we have chosen a smaller Standard Poodle Stud, for our breeding program, we achieve a very medium, 35-55 pound standard sized Goldendoodle. We often refer to them as "Family Size", since they are big enough for rough & tough kids and small enough to not hog the whole bed! We are also using a mini poodle to sire the pups. Now we are getting pups 20-35 pounds as adults.
PLEASE KEEP IN MIND, THESE ARE LIVING MAMMALS WE CANNOT GUARANTEE SIZE.
---
---
417-317-3647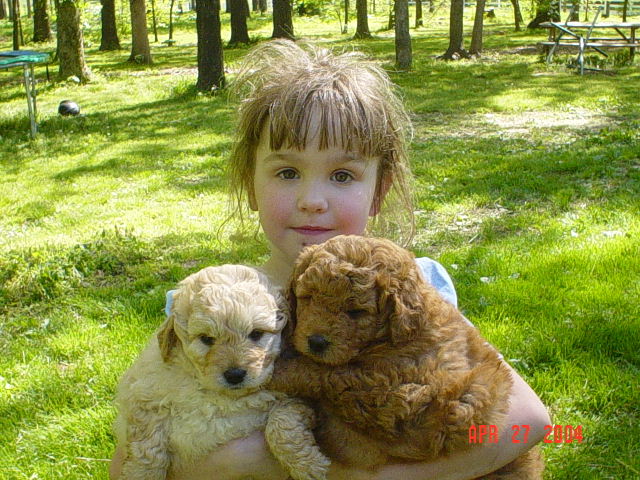 F1 Goldendoodle pups!
"My wife and I brought our Goldendoodle home a month ago. Such an awesome dog, even if there is poodle mixed in there. I was so against having anykind of sissy dog ever again. I love this dog and he's got such great characteristics like I've never seen in a dog. Non shedding and non allergenic too! We named him Ziggy Marley and due to the poodle bounce he has, he's acquired the nickname Tigger!"